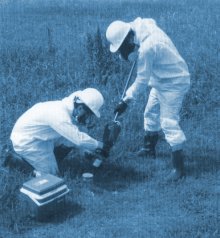 Environmental Options, Inc. provides high caliber training courses with carefully developed curricula and the integration of quality instructors.

Training must cover the areas of worker health and safety, personnel protective equipment and hazardous risk assessment, allowing the worker to read/execute the site specific to safety and health plan.



Environmental Options, Inc. utilizes a lecture/ exercise/ demonstration method that, coupled with instructors who have actual "field" experience on remediation and emergency response projects, promotes high retention of course information.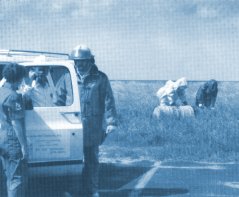 Our instructors, experienced in both RCRA and emergency response, conduct our courses with an emphasis on "hands-on" demonstrations, providing trainees practical application as well as textbook knowledge.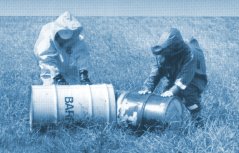 Environemental Options can also help you maximize your emergency response program with specifically designed Incident Command and Hazardous Material Specialist drills. Aside from a real catastrophe, no test measures readiness more efficiently than simulated emergency situations.

With our program at your site, our professionals will create specialized scenarios to simulate actual emergency situations. Because emergency response, spill response and contingency plans get developed, but are often never tested under "life-like" conditions, this type of training is truly the best test to identify the need for change, whether it be in preparation, training, procedure or communication.


About Us *
Our Courses
* Our Management

Richard A. Martinek, President
Mr. Martinek is the President of Environmental Options, Inc. He has conducted a wide variety of Health and Safety training. Mr. Martinek has served in various areas of management, engineering, sales and consulting roles in the petrochemical and waste management industries during the past 18 years. This experience has covered the range of waste characterizations, site investigations, registration of waste activities, project work plan, and health and safety plan development and site remediation project management activities. Specifically, in the area of training he has been conducting HazWoper training classes since the inception of the regulation in 1987. His training experience extends beyond that in a number of safety areas. He has conducted OSHA compliance audits, written Health and Safety Policies and Procedures and has been repsonsible for implementation, compliance and management of the program. This experience is brought to the training area in classes such as:
1st Aid/CPR
D.O.T. Hazardous Materials Regulation Training
National Safety Council "Key Man" Training
HazWoper Training
Confined Space Entry
Refresher and Review Courses
RCRA Orientation Training
OSHA 10 & 30 Hour Courses
MSHA Initial Training

Education
1981 MBA, University of Houston - Clear Lake City, Texas
1977 B.S., Chemical Engineering - Michigan State University, East Lansing, Michigan

Certifications

| | |
| --- | --- |
| PE | Professional Engineer, State of Texas - #64168 |
| CHMM | Certified Hazardous Materials Manager - #1814 |
| CET | Certified Environmental Trainer - #19-622 |
| | Red Cross 1st Aid/CPR Trainer |
| OSHA | General Industry Outreach Trainer |
| MSHA | Certified Safety Instructor |

Professional Affiliations
American Society of Safety Engineers - Gulf Coast Chapter
Certified Hazardous Materials Technician III
National Safety Council
National Society of Professional Engineers
Texas Society of Professional Engineers